Wishlisting, window shop for your perfect home.
Posted on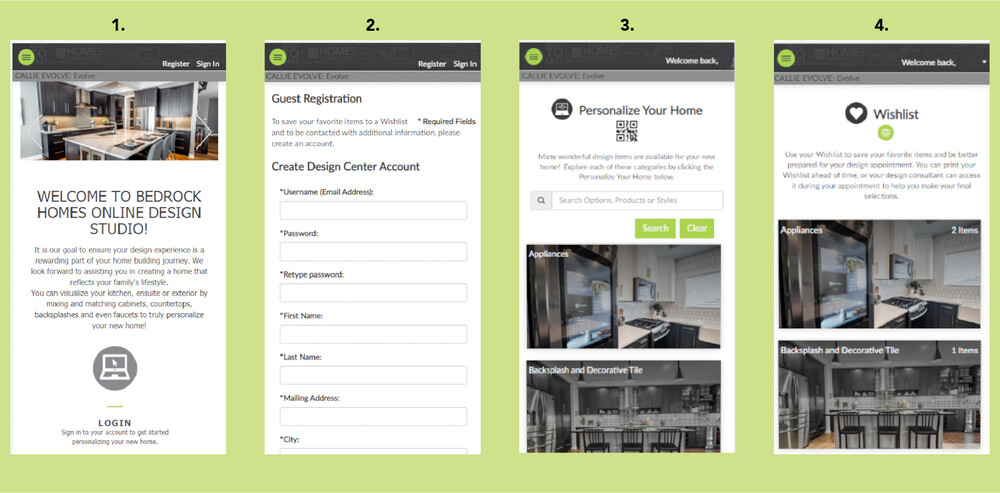 Many of us dream of owning our own home but the steps to get there can sometimes feel steep and discouraging. When you're feeling this way, we encourage you to keep working towards your dreams! To help keep you inspired, visit our website and our online design studio to window shop our models, floorplans, options, and upgrades. You can have the most fun building your dream home online and remembering what you are working towards! Shop everything from paint colors, cabinets, flooring, countertops, tile, lighting, hardware, appliances, and more. Look through every single one of our options in each category and add all your favorites to your wishlist. While working towards achieving your new home dream, revisit and refine your wishlist until you have your perfect combination of finishes and features.
Wishlist - How to
Step 1: Visit our online design studio here.
Step 2: Make an account by clicking Register in the top right corner of the page. Remember, you don't need to start the buying process to make an account. You just have to dream of building your perfect home!
Step 3: Start shopping! Now that you have an account, you can browse our entire selection of fixtures, finishes, options, and upgrades! Find our selection under the Personalize Your Home option.
Step 4: Find something you like? Click Add to Wishlist. This way you can see all your selections in one place and quickly reference them anytime you need!
Step 5: Dream big! Now that you have access to our entire selection, make sure you have fun, dream big, and explore every possibility. When it comes time to bring your dream home to life, you'll know exactly what you want and you won't have to ask yourself, "what if?"
When you're ready to take the leap and make your dream home a reality, our professional interior designers can pull right from your Envision Wishlist and offer top-tier advice to help you complete your new home look.
What are you waiting for? Build your wishlist today!