Envisioning your perfect home: Flooring options
Posted on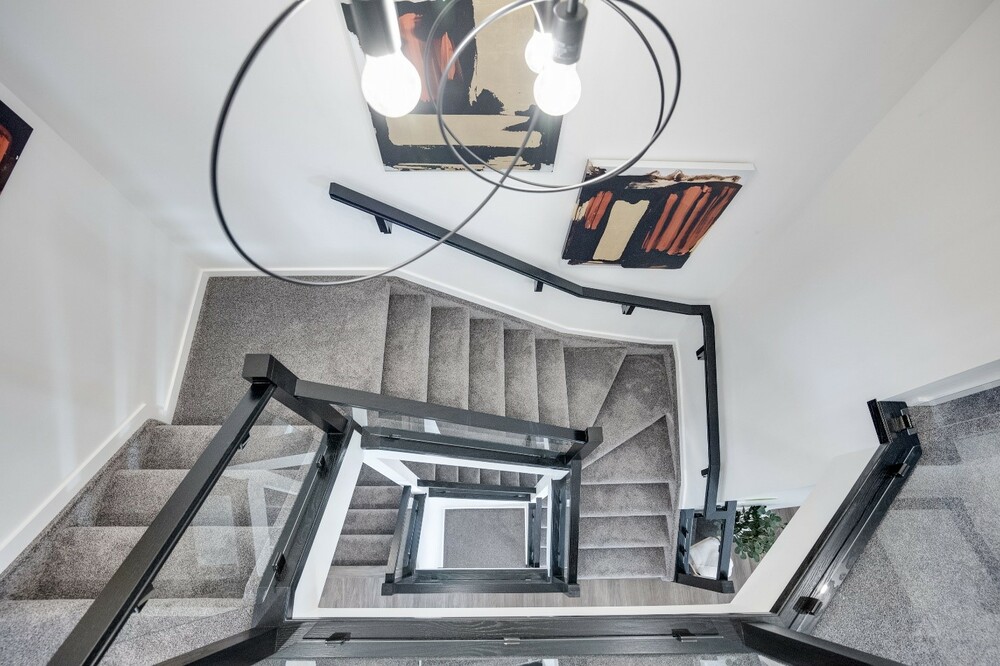 In a Bedrock Home, the flooring options are truly endless. You have a ton of options to choose from for your main floor, second floor, stairs, bathrooms, and garage. With Envision, our online design studio, you can look through all our flooring options and virtually design your dream home and see how it will look in real time.
Luxury Vinyl Plank
Style and quality should go hand in hand! As a new homeowner, you should not have to choose between beautiful and durable, that is why we offer Luxury Vinyl Plank flooring as our standard in all our homes. This flooring option is made to capture the essence of a wood finish but with the reliability your family needs. It is resistant to scratches, scuffs, and water. It is perfect for families with young children or pets. Luxury Vinyl Plank flooring is available in a variety of different colours and styles to truly personalize your new home.
Hardwood
Have your heart set on hardwood floors? Not a problem! With a variety of hardwood options to choose from, the choices are endless. Choose from styles such as Oak, Maple, Hickory, Walnut, and Ash, all in a wide variety of stains, textures, and patterns.
Rhino Proof Carpet
Your carpet should be soft, easy to clean, and shock absorbing. On all our homes, SmartStrand advanced wear and stain protection carpet with 8lbs underlay comes standards so no matter the traffic or the mess, your carpet stays looking brand new. Don't believe us? A rhino at the Birmingham Zoo lived on this carpet for one month. If a carpet can withstand a rhino, it is made to withstand life's little messes. This carpet is available with a wide selection of colours and textures. You can also upgrade from an 8lb underlay to 10lbs, for a little extra spring in your step!
Tile
Now, let's talk bathrooms. With a variety of floor tile options, here is where we really have fun! Tiles are available in all shapes, sizes, textures, and colours, even tiles made to look like wood floors! No matter the vision, you can find the perfect tile with us. Go for bohemian with our wide selection of art deco tiles, minimalist modern with our marble options, rustic with our tiles made to look like stone, high fashion contrast with our variety of sleek tiles in a range of dark shades, and so many more options. Tile installation options are available in herringbone, stacked, staggered, and angled. When it comes to floor tiles, anything is possible!
Stairs
Modern clean lines or cozy carpet, both are an option for your stairs. Choose from Luxury Vinyl plank and keep the same flooring from the main floor all the way up the stairs or go for carpet and keep the same carpeting from your second floor down the stairs. You can also do Luxury Vinyl Plank throughout your entire home, from top to bottom, or add carpet just to your stairs. Carpeted stairs are a great option for families with pets or little ones.
Garage/Gym
Interested in turning the garage into your dream shop space or turning one of the extra bedrooms into a home gym? Then flooring should be the first place to start! For the garage, epoxy flooring is available in 6 colors and provide a beautiful shine to your garage floor. The benefits don't end there, it strengthens and prolongs the life of the concrete and makes for an easy, seamless cleaning process! For the home gym, shock-absorbing mats are a must! Protect your foundation, floors, and gym equipment with our Amorim rubber sports mats.
No matter the vision you have for your home, we have the flooring options to make it possible. Now it's time to pick the right flooring for you. Visit our online design studio and start envisioning today!