Discover the Callie
Posted on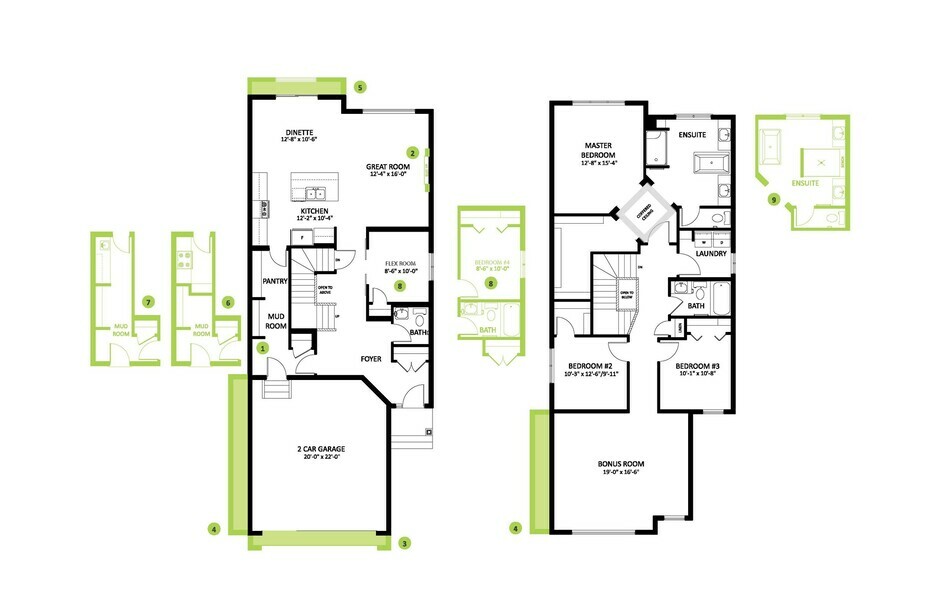 Versatility, luxury, size, and style, you get them all when you choose the Callie. A versatile model, inside and out, the Callie offers homebuyers five exterior options to choose from starting with Callie B: the craftsman home, Callie H: the heritage home, Callie F: the farmhouse, Callie K: the modern contemporary home, and Callie P: the prairie modern home.
Main Floor Options
The versatility continues on the inside. Enter the Callie and marvel at the large foyer, the grand staircase, and the main floor flex room. Here, the interior selections begin. Envision your flex room, what do you see and how would you use this space? A home office, a playroom, a crafts room, a fourth bedroom, or maybe an in-law suite? Change the main floor half bath to a full bathroom and the opportunities for this space become endless!
Now let's enter the heart of the home, the kitchen! With the Callie, you have the option to upgrade to a mega island with a ton of features like a wine fridge, hidden additional storage, built-in spice rack pull-outs, and tupperware storage. Also, you can add in the convenient pots and pans drawers, built-in utensil storage, and hidden bins for garbage and recycling. See options in person at our Callie P showhome in Maple Crest.
Last but definitely not least, pantry configurations, for every way you use your pantry, we have a configuration that's right for you. You can have a walk-through pantry that leads to your mudroom, a butler's pantry with a sink and cabinetry, or a spice kitchen with an additional range and cabinetry. With a kitchen like this, dinnertime becomes a breeze!
Master Bedroom Options
A master suite that's over 500 SQFT, now that's a suite fit for royalty. Enter the master suite and take your pick. On your right, you'll find the exceptional walk-in closet, on the left, your spa ensuite, and straight ahead, your bedroom. A ton of customization is available here. Let's start with the best place in the master suite, the ensuite! Here you can create your very own spa, everything is customizable including the placement of the shower and tub. Placing your shower between the double vanities allows you to enter through either side. What could make mornings easier than this convenient ensuite layout? A smart shower! Set your shower to the perfect temperature every time. Whether or not you are a morning person, an ensuite like this could get anyone excited to start the day!
Next the walk-in closet! Upgrade your lighting to something subtle and recessed or something bold and bright. Add in built-in closet organizers. With built-ins, you can have a ton of fun by designating spaces for tops, pants, shoes, jewelry, handbags, and more.
Last but not least, the bedroom! Every inch of this room can be customized by our interior designers with feature walls, paint, and light fixtures. Make it extra cozy by adding in a fireplace and power-view blinds. Use our brilliant smart home system to dim the lights, lower the blinds, turn on the fireplace and the TV, and there you have the perfect environment for watching a movie, all by just saying "Hey Alexa, turn on movie time!"
There are always more options!
Additional structural options throughout the home include a great room fireplace, bonus room layouts, cabinetry in the laundry room, as well as widen or lengthen the space in the garage, dinette, and bonus room.
Options for finishes are truly endless!  Play around with our interactive floorplan to craft your perfect home!
Plus, check out our latest Callie showhome opening this Saturday in the community of Evergreen.
The Callie showhome in Evergreen