Checklist for Moving into Your Newly Built Home
Posted on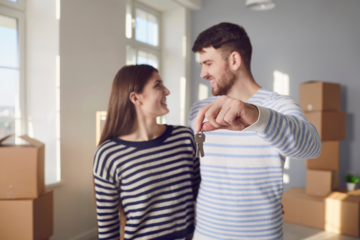 There's nothing quite like the feeling of moving into a home that has been newly built just for you and your family. The build is done, you've taken your final walk-through, and inspections have been completed. Every design detail, down to the final tile, reflects the choices you made for your perfect home.
It's been said that after weddings and funerals, planning a move is one of the most stressful things we can do. To make sure your move to your dream home is seamless, we've prepared a checklist to help you get organized and stay on top of every facet of your upcoming move. Here are our best tips for moving into a newly built home:
Build some flexibility into your move date
If it's at all possible, plan your move-out and move-in dates with flexibility in mind. If a small delay occurs, you won't feel as stressed because you've already given yourself some breathing room and space to change your big moving day if needed. Planning for the unexpected – like a delay in closing – can give you peace of mind, even though everything will likely wind up running smoothly and on-schedule.
Create or download a moving checklist
There's a lot to keep track of when you're planning your move. You'll want to plan ahead in spans of time – 1 month, 2 weeks, 1 week, day of – for goals that should be accomplished by these dates. Two Small Men with Big Hearts Moving has a free, printable checklist on their website that you can use to plan every step of your move and keep track of your progress.
Find a moving company
You'll want to start researching local moving companies about 6 weeks before you move. There's a lot to look for when choosing a mover: start by checking out their online reviews, seek referrals from family and friends, and gather quotes from a few companies before you decide. You should try to book your move 4-5 weeks in advance, especially if you're moving at the end or beginning of the month, to ensure you can secure the date you want.
There are a few red flags to keep in mind when it comes to movers, too:
No professional movers should ever charge for a quote
Business information online should be up to date
If their quote is significantly lower than other companies, that's a suspicious sign
If their sales agents aren't friendly and helpful, move on
Update your address with utility companies
Switching over and turning on your utilities at the new home is easy to forget or push to the last minute, but you should schedule it in advance so that your first official night in your new home leaves you with nothing but happy memories.
You should also forward mail from your old address to your new address for 6 months to a year to give yourself some leeway in updating addresses with businesses and relatives that you don't hear from that often.
Take a "new neighbourhood" road trip
The period before you move is the ideal time to get familiar with your new area, particularly to figure out if there are any quirky features of the roads that you need to know about before your first morning commute to the office or your kid's school. Bringing your family along for the ride will help them feel a bit more comfortable and at-home in your new neighbourhood, and it can be a wonderful bonding experience for everyone to learn more together.
Moving day – get your keys and get settled in!
Check with your builder to arrange for key pick up, then get those keys and start enjoying your new home! One of our best recommendations to make the new home really feel like it's yours is to have a big house cleaning day. Cleaning the space yourself before moving your stuff in will enhance your sense of ownership and comfort in your new home.
Your final step is to get a good night's rest. Moving into your new home is tough, but it's so worth it in the end. Happy home building!
Guest Blog by: Two Small Men with Big Hearts Moving